Posted on
Jodi Schaff, 58, head of Plume & Thread, a Philadelphia line of women's leisure wear.
Schaff studied landscape design, then became a palm and lime farmer in South Miami. "It gave me a really good work ethic," she said. In her free time, she started experimenting with fashion at her kitchen table -- painting designs onto shirts, adding appliques -- and sold her creations at craft shows. She had more vision than skill; in fact, she didn't even know how to sew. After she moved back to Philadelphia 32 years ago, she bought a sewing machine and started to learn. But before she got far, a New Hope boutique owner noticed her outfit and asked her to bring in samples the next week. Schaff generated the designs and got the sewing-machine salesman to stitch them together. Today, she still doesn't really know how to sew, but her designs are in more than 300 stores around the country.
In addition to not sewing, Schaff also doesn't really make sketches; she has a graphic designer who can do that. Her role? "I'm the conductor," she said. "I hold the fabric and look at it, and have it on my desk." From there, she'll start to visualize silhouettes, prints, and textures for a season's collection, contemplating the look of each individual piece and how they all fit together.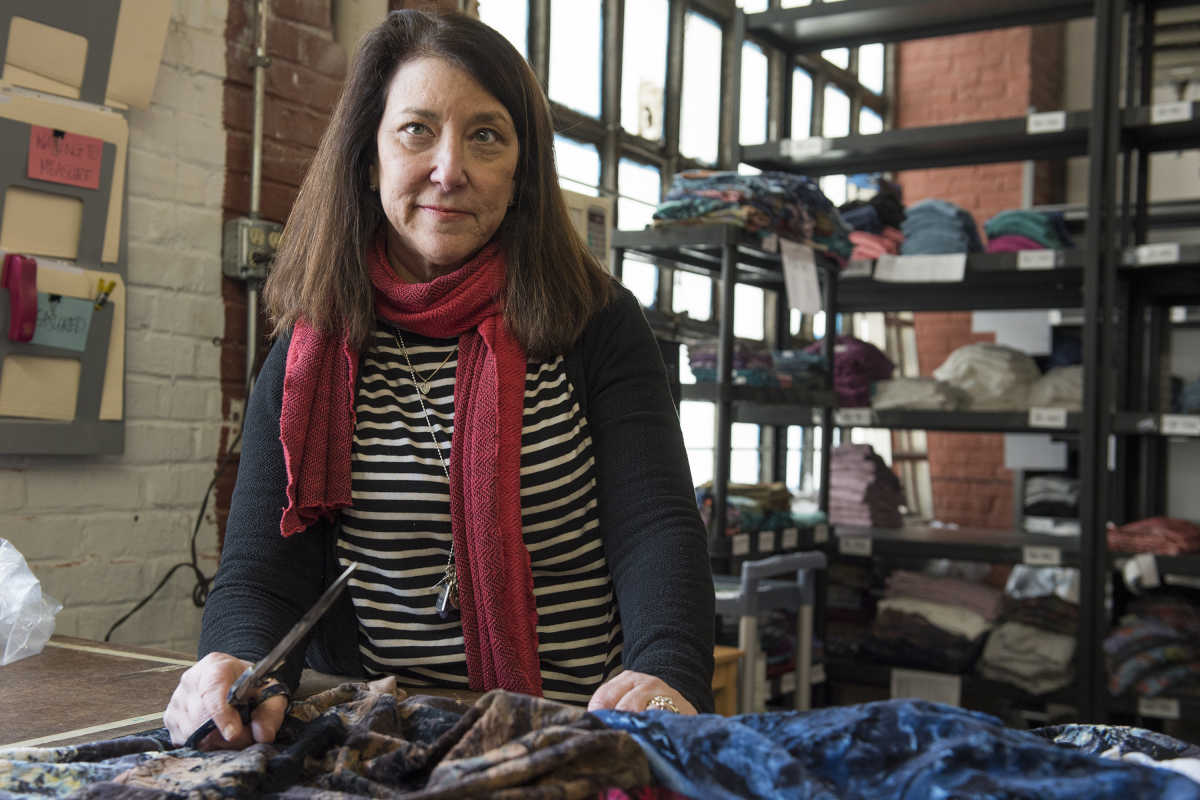 Brianna spause
 / Staff Photographer
Jodi Schaff of Plume and Thread in her studio in Harrowgate.
Schaff launched the Plume & Thread brand about five years ago, and she says every piece has been made in the United States from start to finish. She works with a knitter and print house in California, but all her other vendors -- whom she relies on for pattern-making, cutting, dyeing, sewing, and finishing -- are within five miles of her studio in a converted Harrowgate factory building. Schaff said it's not easy to do this work in Philly, with its dwindling textile industry, but she's committed to it. "One of the big things that makes the brand what it is is not just the style, but all the communication that goes into it," Schaff said. All the fabric comes through Schaff's studio, so her staff can assess its quality, and all finished products stop there again for a final inspection before they're shipped out to retailers. At any given time, racks in the studio are filled with pieces from the current collection and tall shelves brim with fabric samples for the next season's line.
Asked to define the Plume & Thread style, Schaff said it's less about a specific look than about a brand identity, described as "mindful, alive and considerate." Her inspiration, she said, is her customer base: "What are our customers' lifestyles? Where do they go in it? How does it make them feel? Every woman is perfect as she is. That's what the brand stands for."